As construction of the CAP began in 1973, the United States Bureau of Reclamation anticipated the development of the multi-use recreational CAP Trail. Wherever possible, Reclamation acquired sufficient land and inset the fence 10 ft. to 20 ft from the property boundary to allow for a trail to be developed. Emphasis is focused on urban areas, particularly in those areas where the trail could be developed in conjunction with adjacent development.
As development continues to occur adjacent to the canal, CAWCD requests that each municipality and/or developer provide an additional twenty feet of trail width or setback along those adjacent developments to allow for proper grading, drainage and landscaping enhancements to occur on the developers property.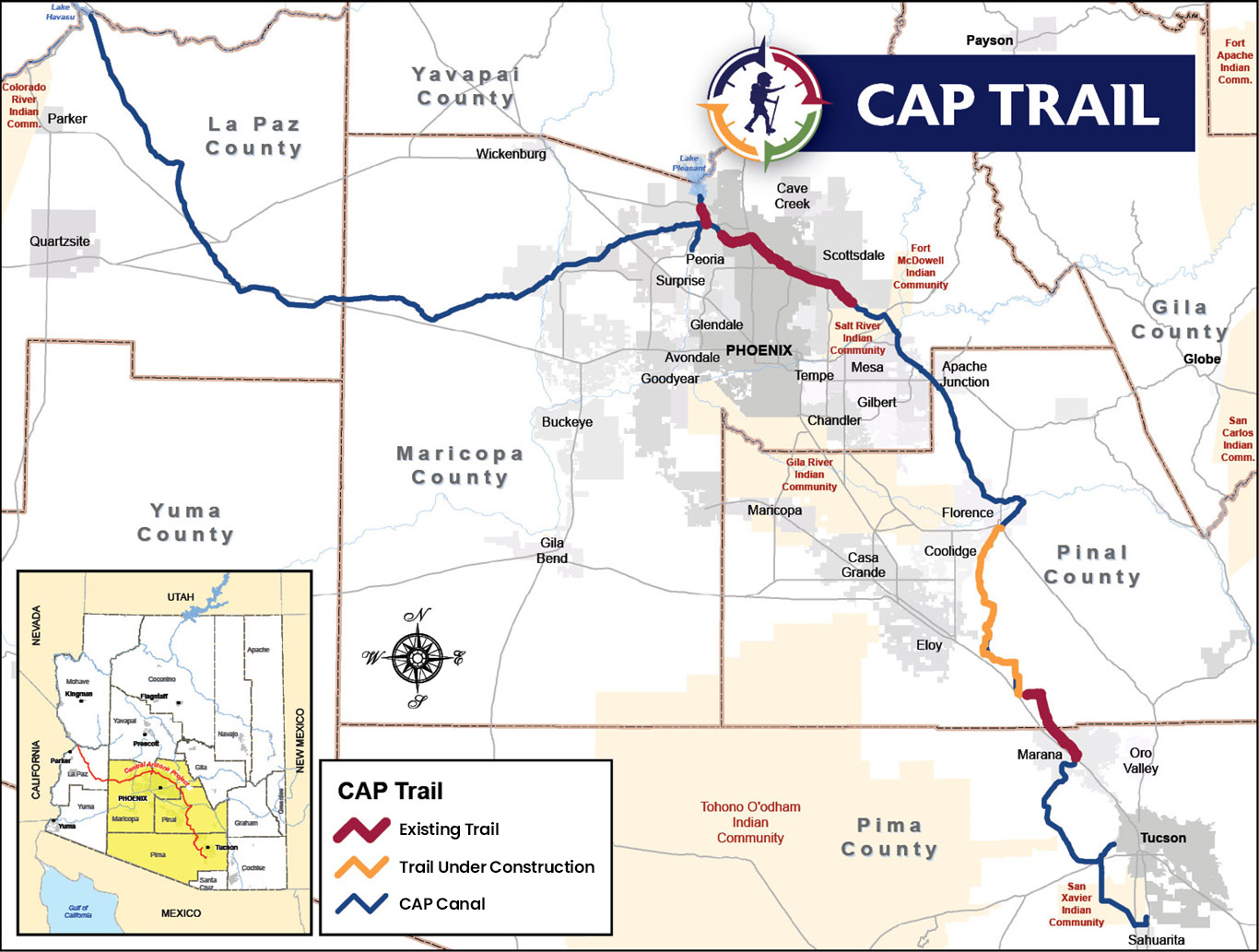 In order to help facilitate the construction of the CAP Trail, the CAWCD Board developed the following trail policy:
The CAP recreational trail is planned on the unfenced strip of land (approximately twenty feet wide) between CAP's canal security fence and its canal property boundary line. The general trail location is on the downhill side (south or west) of the canal in the Phoenix area, west of the canal in the Pinal County area and on the uphill (east) side of the Pima County area but switches sides in specific locations. The trail is planned for multiple recreational uses; i.e., walking, jogging, equestrian use, bicycling, and roller blading if paved. However, public motorized uses will not be allowed.
The recreation trail shall be outside CAP's security-fenced "closed" aqueduct system for operational, security, maintenance and liability reasons. CAP preserves its right to use the planned trail area for the maintenance of the CAP security fence.
CAP will facilitate the recreation agreements between the city or county cost-sharing sponsors and Reclamation; this facilitation will include working with the prospective sponsors' councils or boards, planning commissions, trail committees, and Reclamation. CAP will move the security fence where necessary for trail width if feasible from an operational perspective. CAP may also contribute such work as landscaping in advance of trail agreements or other activities that will promote and advance trail development.
In urban areas CAP will work with each jurisdiction's planning department prior to review and permitting of new developments adjacent to the trail. CAP will request that the permitting secure an added trail width or setback in areas where less than twenty feet of CAP property is available for trail development. Comments are routinely requested from CAP's Engineering Department on adjacent new subdivision developments. When reviewing these, CAP will confirm the request for additional width or trail setback in areas that are adjacent to the planned trail.
CAP will consider the possibilities of recreation trails for non-motorized use in the areas of CAP recharge projects, particularly the Agua Fria Recharge Project or other recharge projects where CAWCD has ownership of or easement rights to use the land. CAP may initiate, build, or sponsor recreation trail projects on CAP land in these areas, participate with recreation trail plans of other jurisdictions, or facilitate projects with landowners. Recharge project operations, however, retain first priority; any recreational plans considered shall not adversely impact CAP recharge project operations.
Contact the CAWCD Lands Department at 623-869-2555 or by e-mail at 2555@cap-az.com if you have any questions or want to schedule an appointment to discuss a proposed project.